CLEAR COMMUNICATION
With the reins attached in a similar position to a bit, the Light Rider Bridle delivers a much clearer, more direct message to the nose.
Some horses get confused or resist 'whole head' pressure so they respond better to the simple but effective chinstrap of this unique bitless bridle.
It works by the horse receiving release from pressure as the chinstrap slides through each noseband ring.
"I just love it! It has a snug fit for direct and clear communication, it doesn't close down on the horse when you are having a conversation about what you would like them to do" - Jenny Pearce (International Author and Clinician)
CONTROL AND LIGHTNESS
The unique chinstrap of the LightRider Bridle offers effective control by tightening (to a point) when pressure is applied. The chinstrap will not over tighten - its purpose is to simply keep the noseband snug so your contact and communication is direct and easily understood.

When the rein is relaxed, it releases the chinstrap to reward the horse.
Horses find it much easier to learn and become lighter when they receive release from pressure.
"I was having real trouble with my 20yr old mare accepting any bit whatsoever. She absolutely hated being ridden with a bit, tossing her head, not listening to the rein aids etc. We tried just a halter but there was no one rein stop and she just pulled through my hands and left me with not much control at all"
"After chiro and dentist visits, a friend suggested we try your bitless bridle and after one session in the round yard to get used to it, the difference is amazing! No tossing the head, she listens to the lightest of aids, she is easier to handle, has emergency brakes and most of all she is happy. She enjoys being out on the trail. She even cantered for the first time for me the other day and loved it"
Thankyou for designing this product. I can't believe the control and how much better I feel riding her now that she is happy. Personally I have ridden horses that accept the bit happily but still didn't feel as in control as I do riding with the bitless bridle" - Jenny K. in Tasmania.
COMFORT FOR A CALM HORSE
There is nothing tight on the LightRider Bridle to bother your horse.
The padded noseband that sits approximately where a cavesson noseband does, will not mark your horse or cause excessive sweating.
The soft nylon chinstrap releases and opens to allow easy eating and drinking with the bridle on, without having to undo straps.
A calm relaxed horse is a much safer ride.
"When I stop he actually gives with his head instead of bracing against me which was really nice. MY GOD what a difference – thank you Cynthia I have my horse back!!!!!" - Kylie Hutcheon. Endurance Rider - Tasmania.
EXCEPTIONAL QUALITY
The English, Stockhorse and Western styles are made from a matte Standard or Deluxe Beta Biothane. This vinyl coated polyester webbing was developed as an alternative to leather.
It has a soft leather-like feel but is much stronger and easier to care for (wipe with a damp cloth) It doesn't fade, crack or absorb sweat.
The Natural and Performer styles are made from high quality marine braid polyester rope, as are the reins.
The padding on the noseband of the Performer is a soft, anti-gall material, the same as that used for girths. The Stockhorse style has padding over the headpiece too that provides comfort for long periods of wear.
All bridles come with either top quality solid brass or stainless steel hardware that is strong, durable and rust proof.
"It is a very beautiful thing to look at! The materials and workmanship are of a really lovely quality" - Jo Atkins, Tasmania.

MULTI-PURPOSE - FOR MORE FUN!
Lead your horse easily by unclipping the reins from the chinstrap then clip to the lead ring or loop.
Lunge your horse easily from the lead ring or loop.
Play on the ground with the rope reins extended to warm up/down, or attach a longer line for more fun.
Ride with the reins clipped to the chinstraps rings for maximum control, or clipped to the noseband rings like a traditional sidepull bridle.

"My students loved using it and found it much better. Tulley was even more responsive with it than the halter/rope reins we had been using. He went like a dream" - Nan Catmur (Riding instructor)
"I have seen horse after horse relax and rejoice with the gift of the Light Rider. It is perfect for all phases in Le Trec - which covers everything from precise ground play to flying over cross country fences. Thank you, Cynthia" - Scilla Sayer (coach and therapist for horses and humans)
LOOKS LIKE A REGULAR BRIDLE
With the noseband positioned closer to where a cavesson sits, the LightRider Bridle enhances the look of your horse.
You can use the English, Stockhorse, Western and Bitless Noseband knowing you will blend in with bitted horses. And more importantly, your horse will be happier and more relaxed without the discomfort caused by a bit.
The LightRider Bridle passes tests with excellence!
Cinch Magazine - an online magazine based in Canada have been running independant tests on various bitless bridles including he Light Rider (model tested: Standard Stockhorse) and here are the results which of course I'm very happy with!
Scores out of 5:
(1= poor 2= satisfactory 3=good 4=excellent 5=outstanding)
- Base Price (not including shipping): 4
- Versatility (disciplines): 4
- Quality of Materials: 5
- Ease of Use (adjustments, riding): 5
- Durability: 4
- Cleaning: 4
Comments: The Light Rider is a unique bitless bridle design featuring a sliding chinstrap. Its composition focuses on being light on the horses head, but nonetheless offering clear, light signals. It is one of the best looking bridles of the batch, and is available in many designs so neither english nor western riders will feel left out.
The Light Rider cleans readily with soap and water and does not fade in the sun. It is the perfect all around bridle for use during trail rides, endurance or recreational pursuits. This bridle is not available in leather, which may be a downside for some, and may perhaps limit its popularity in a showing atmosphere (where bitless is allowed)
A nice advantage to the Light Rider is that it is abundant with versatility. It can not only be used for riding, but has a removable strap that converts the bridle into a lunging cavesson-type head gear and halter. This saves time and money long-term, and is convenient that you can easily tie the horse during a trail ride or for grooming and saddling.
It is especially nice in that the bridle is not fitted tightly- there is no need, as the reins do not attach directly to the noseband- and there is no displacement of the noseband during its use.
In Use: Throughout hacks, jumping and schooling, the Light Rider never missed a beat. Horses responded well and rode confidently in through the bridle. Through work the horses responded lightly and effectively to cues. The only minor complaint being that from a standstill (using solely the bridle) a couple of the horses were able to resist the aid to turn- during faster work, this never proved an issue.
Conclusion: The Light Rider is a surprisingly effective bridle in an easy to clean, light weight package. It is one of the gentlest bitless bridle designs, but yields fantastic results. It may not be suitable for the show-ring because of its material, but it is well-adapted to schooling, hacking or endurance ventures.
A general observer would not notice that there is no bit in the mouth, except upon closer inspection. Some riders will especially appreciate that the Light Rider is very traditional in styling- it doesn't compromise style or safety.
Why a LightRider Bitless Bridle is better for your horse.
Whether you already ride in bitless headgear or still use a regular bridle and bit, there are more options to choose from when it comes to practical, comfortable headgear for your horse.
The LightRider Bitless Bridle designed by Cynthia Cooper (successful competitor in many different equestrian events) is proving to also meet the pleasure rider's needs, most importantly the ability to safely control the horse without a bit in its mouth.
Secure on the head, so offers more control than a halter.
The unique design of the chinstrap keeps the noseband from twisting and sliding when the reins are used.
This in turn puts more direct pressure on the nose and causes the horse to listen to a lighter feel on the reins.
The soft webbing chinstrap releases when rein pressure is relaxed, providing an instant reward for the horse.
It is much safer than a halter because the communication is more direct to either side of the horse's head (and therefore easily understood) and the reins cannot become stuck on the neck if the horse tucks its head in to avoid pressure.
Lighter so more comfortable for the horse.
The lightweight materials used and light rope reins make the overall weight of the LR bridle around 500 grams (depending on the size)
The padded noseband relieves the pressure and doesn't mark the nose like a rope halter will.
Allows easy eating and drinking.
Because the chinstrap is loose until the reins are used, the horse can fully open its jaw to eat and drink. Of course with no bit, your horse will find it easier to drink – no sucking in air with the water, and easier to chew grass when you have a break or go on those long rides.
Allows easier breathing than with a bit.
A bit obstructs the horse's breathing, especially when the reins are held firmly, as the tongue is forced towards the back of the mouth. Combine that with some vertical flexion when a horse is held in, and you decrease the size of the airway in the throat by as much as 50%. (Ref. 'Metal in the Mouth – the abusive effects bitted bridles' by Dr Cook & Dr Strasser)
Doesn't cause pain or damages the horse's mouth.
When you take away the bit, you immediately take away a lot of pain from pressure applied to the reins.
A bit acts directly on the bars of the mouth which are only covered by a thin layer of skin and tissue – a bit like your shin bone.
When a horse experiences pain, it's instinctive reaction is to fight and become harder to control. Also, the bars are damaged and eventually bone spurs form from bit pressure.
The horse also reacts to pain by throwing its head up, tossing its head repeatedly or opening its mouth.
This then causes the rider to need a martingale or tight noseband to keep control and makes life very uncomfortable for the horse.

A LightRider bitless bridle, even in heavy hands, will not cause pain unless it is fitted extremely low on the nose where it can obstruct breathing.
It won't rub the horse, even if you have constant contact for longer periods, as the chinstrap keeps everything from slipping and the padded noseband protects the hard bone of the nose.
The reins unclip to make a long rope for leading.
When you have to get off your horse out on the trail it takes a few seconds to unclip the reins from the chinstrap and one end onto the halter loop/ring. You then have up to a 3m length of rein for leading or tailing your horse up hills, or tackling those challenging obstacles from the ground.
No need to change head gear.
From the time you catch your horse to the time you release him/her back in the paddock, there's no need to change from halter to bridle and back again. Please note the rein clips are not designed for tying a horse – but a regular rope can easily be clipped on for this.
Easy to clean and dry.
The LightRider Natural or Performer Rope bridle is easily washed in water, and a little scrub with a brush gets out all the sweat and dirt. Or you can throw it in a net bag in the washing machine to get it looking like new again.
Hang it up to drip dry and its ready to go again the next morning.
The LightRider Biothane bridle range wipes clean quickly with a damp cloth.
"I have ridden bitless for a couple of years now with a crossover bridle and then progressed to a simple rope hackamore. So my mare is quite used to being without a bit, especially for hacking. The crossover does not have the release my mare needs being sensitive, and so the responses to my cues are often delayed and therefore my cues have to shout louder over the noise levels to get her attention. And all I can say is thank you for designing such a wonderful piece of equipment. It is so simple, yet so effective. " Jo in the UK.

LightRider Bitless Bridles are Endorsed by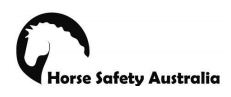 "It is something the executive were happy to endorse, especially considering the quality of the materials in your products"